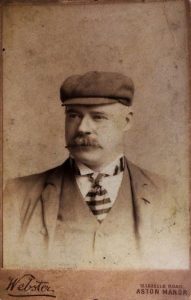 Welcome to oliverclare.co.uk, a celebration of a special Birmingham dynasty of artists; Oliver Clare, his father George and his brother Vincent.
Born in 1853, Oliver was the son of the renowned still life artist George Clare and his wife Lizzie, formerly Elizabeth Bowen. The Clare family members, George, Oliver and Vincent were Victorian artists who specialized in, and were well known for, their highly finished and precisely detailed still life fruit and flower paintings. George and Lizzie's third son David didn't paint so little is known about him…
Read the full, comprehensive biography here.
It was early in 1968 shortly after I had started in the art business that I was visiting a local gallery in Birmingham owned by Eric Jones. A well-known and respected art and antique dealer, he had opened a gallery "Kestrel House" in Erdington on the outskirts of Birmingham. I had gone to view a painting I was considering buying and it was on this visit that I first encountered the paintings of Oliver Clare…
Read about my lifelong admiration for a rather special artistic dynasty here.
Copyright 2018 Leon Suddaby, All rights reserved
Unique Visitors: 5712, Page Views: 11030
To contact us please call 07834 210016 or click here to contact us by email