George Clare was the father of Oliver, Vincent and David Clare. Oliver and Vincent were successful artists and David followed a completely different profession.
George was without doubt the influence on both Oliver and Vincent and likely to have been their sole tutor. As there is no information to the contrary it can be assumed that they were both trained by their father as their painting technique is so similar to that of George, both in technique and subject matter.
George Clare was born in Barnet in 1830. Later he moved to Birmingham where he initially resided at 173 Bristol Street, Birmingham. Later he moved to 185 King Edwards Road, Ladywood where he was still living in 1871 as his son George (later to change his name to Vincent) is recorded as living at this address in the census Later he returned to London where he remained for the rest of his life until his death in 1890. It is likely that it was he who had the studio in Livery Street, Birmingham which was later taken over by Oliver when George returned to London.
George was very limited with his subject matter painting exclusively still life of fruit and flowers and birds nest studies. These had been made popular by William Henry Hunt, often referred to as "Birds nest Hunt" 1790 -1864. Thomas Worsey 1829 – 1875 and William Dexter 1818 – 1860. These were the three main artists who were the first to popularise the "Birds nest" subject. Dexter, who started painting flowers and birds at The Derby China Factory, went to Paris to study before returning to England to marry Caroline Harper. Shortly after their marriage they both emigrated to Melbourne, Australia in 1852 where he opened an art gallery. At some stage during the latter part of the 1860's George returned to Barnet, Hertfordshire where he died in 1890.
George exhibited at the Royal Academy during 1864, 1866 and 1867, The Royal Society of British Artists and The British Institution regularly throughout his career until 1874 when there are no further records of him exhibiting again.
George Clare's paintings reflect the enormous popularity of the highly defined works of the Pre-Raphaelites who were becoming prominent at this time.
WORKS IN PUBLIC COLLECTIONS:
Birmingham City Art Gallery

Torre Abbey

Southampton City Art Gallery

The Cooper Gallery
Below, a pair of oils by George Clare, "Still Life of Fruit" and Birds Nest with Flowers" 24 x 20 in.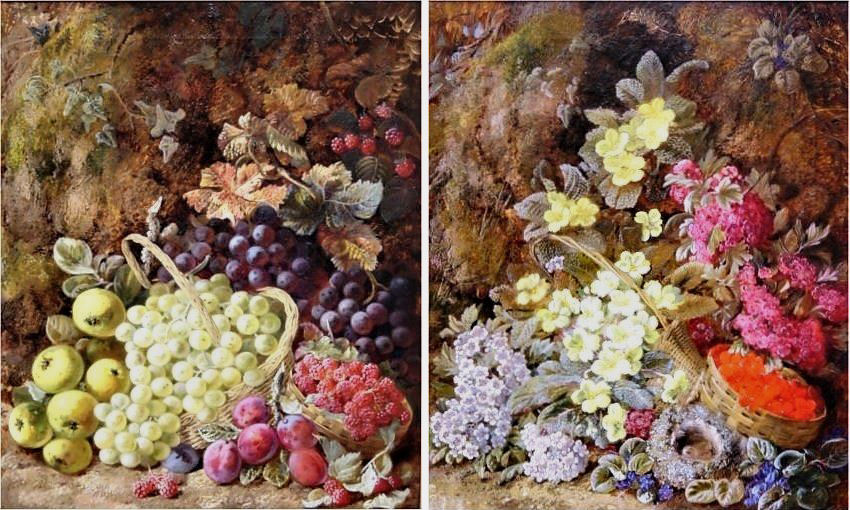 Also a rare work by William Dexter "Bird's Nest and Flowers in a Hedgerow" dated 1849, done just before he emigrated to Australia.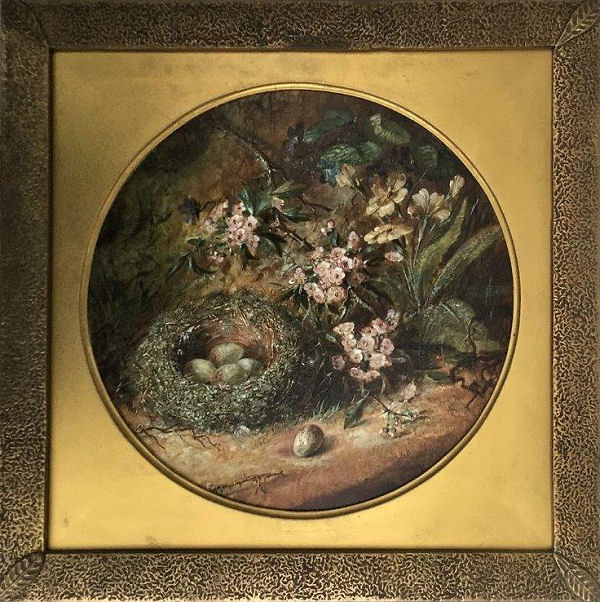 Leon Suddaby
Copyright 2018
All rights reserved