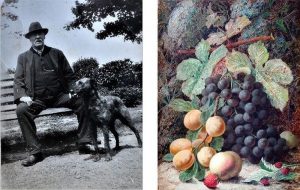 Born in 1853, Oliver was the son of the renowned still life artist George Clare and his wife Lizzie, formerly Elizabeth Bowen. The Clare family members, George, Oliver and Vincent were Victorian artists who specialized in, and were well known for, their highly finished and precisely detailed still life fruit and flower paintings. George and Lizzie's third son David didn't paint so little is known about him.
George Clare, who painted most of his life in London, would certainly have known William Henry Hunt (1790-1864), often referred to as "Birds Nest" Hunt, who was a major inspiration for George's subject matter along with William Dexter (1818-1860). However, it was Oliver who took up the mantle of still life painting and made it a "celebration" of nature's bounty and the beauty of life in the English hedgerow to the exclusion of all else.
Oliver spent most of his artistic life in Birmingham. He was born at 185 Edward Road, Springhill, Birmingham in 1850. Although there are no records indicating where he received his training, one can be quite certain that most, if not all, was from his father. Their stippling technique and choice of subject matter are almost identical. His amazing and unique technique and finish are superlative. Capturing the bloom of wild yeast on plum and grape skins down to the very subtle drops of water found on fruit from the early morning dew. His brush strokes are almost invisible and the urge to wipe the dewdrops off the fruit is almost irresistible. His subjects are often set against mossy backgrounds producing a more informal composition than many of his contemporary artists. Clare is recorded as enlisted in The 4th Kings Own at the age of 18.
At the age of 36 Oliver decided to emigrate to America and took passage on the SS Roman, sailing from Liverpool, an immigrant ship bound for New York. He is clearly listed as passenger 266, artist bound for New York. Oliver lived and worked in America for four years, finally deciding to return to his native homeland where he once again settled in Birmingham where he remained for the rest of his life.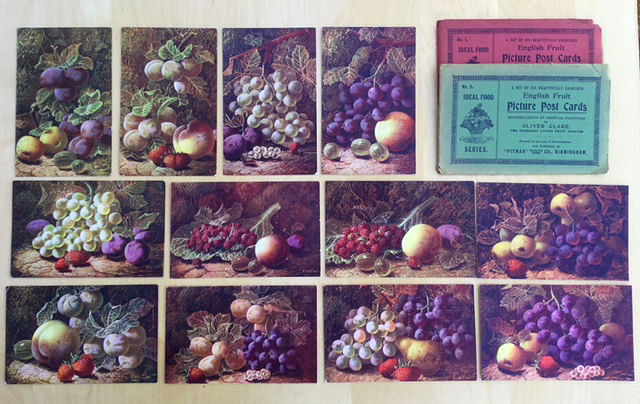 He married his wife Emma and they both lived at 11 Wills Street, Lozells, Birmingham where he died on 13th April 1927 from throat cancer.
While Oliver lived in Birmingham he was commissioned by a local firm "Pitman Health Food Co" to paint still life fruit to be reproduced on postcards and posters to promote healthy eating. There are two known series of six cards in each pack, twelve in total.
Oliver Clare exhibited many paintings throughout his lifetime and is most often associated with the Artists of Birmingham. He exhibited eighteen works at the Royal Birmingham Society of Artists, three at the Walker Art Gallery, Liverpool and six at the Manchester City Art Gallery. Throughout the late 1870's and early 1880's he lived in London where he exhibited several works at the Royal Academy and the Royal Society of British Artists, Suffolk Street.
Oliver Clare was also noted for painting on unusual items such as cigar box lids, papier-mâché plates and lacquer boxes as shown on the gallery page. These were usually for gifts to family and friends.
Oliver was not the heavy drinking man as has been stated in previous writings of the artist. This has been strongly refuted by none other than the artist's nephew, Walter Clare, who was very close to his uncle and spent much time with him.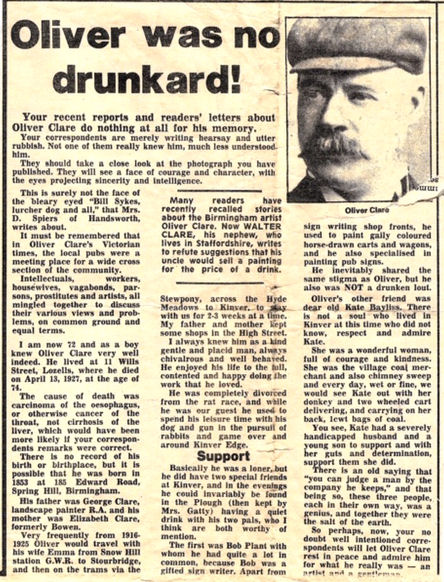 By Walter's account, Oliver was a quiet placid man, a man who was keen on country pursuits such as shooting which he regularly did, either in Sutton Coldfield Park or at Kinver Edge whilst staying with his nephew. It was this interest in country life that gave Oliver the need to celebrate the English hedgerow which he does so well with his birds nest and flower paintings which are regarded by many as among his best and most desirable works.
However, it has recently come to light that, as with many artists, drink did play a part in his life and I attach some paper cuttings relating some of Oliver Clare's scrapes with the law. The one stating he was an American is a reference to the fact that he had been living and working in America for about four years trying to break into the enormous American art market at that time. Nothing is known about this period of his life other than there is proof of his sailing as shown."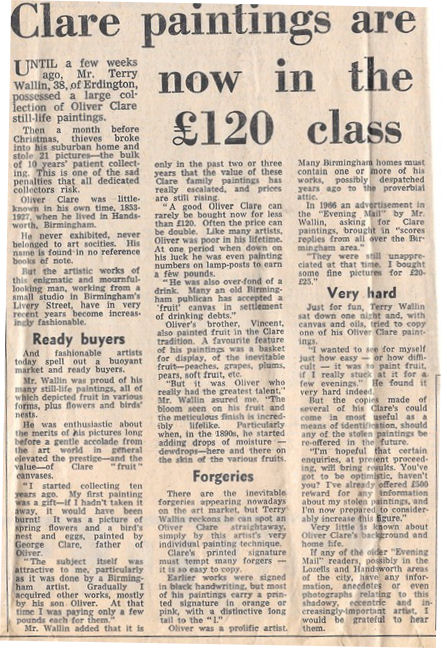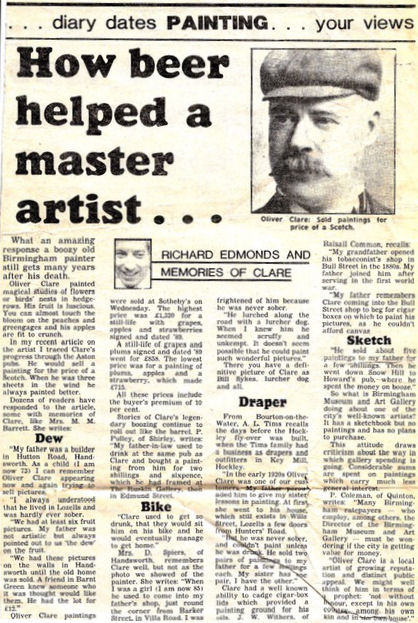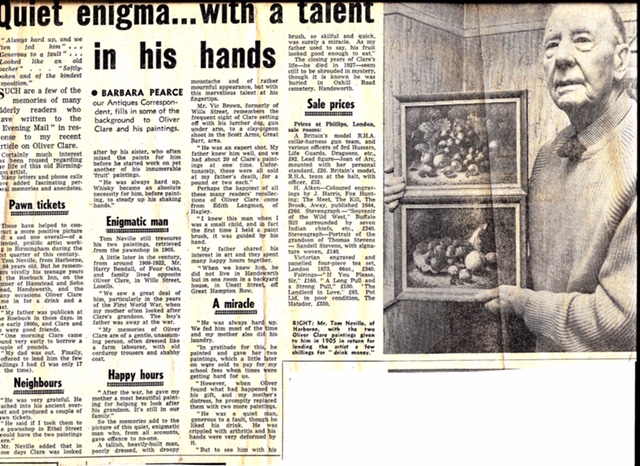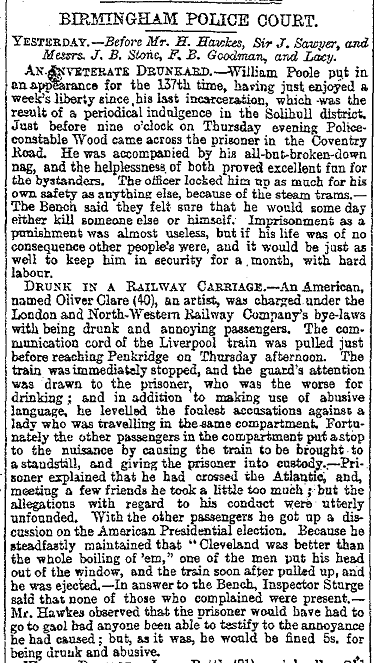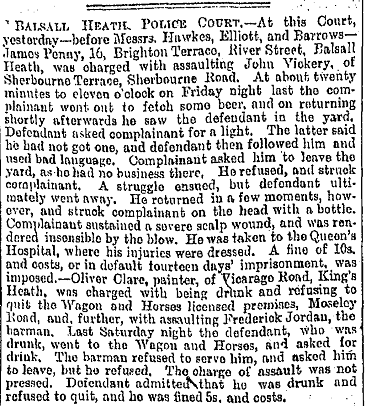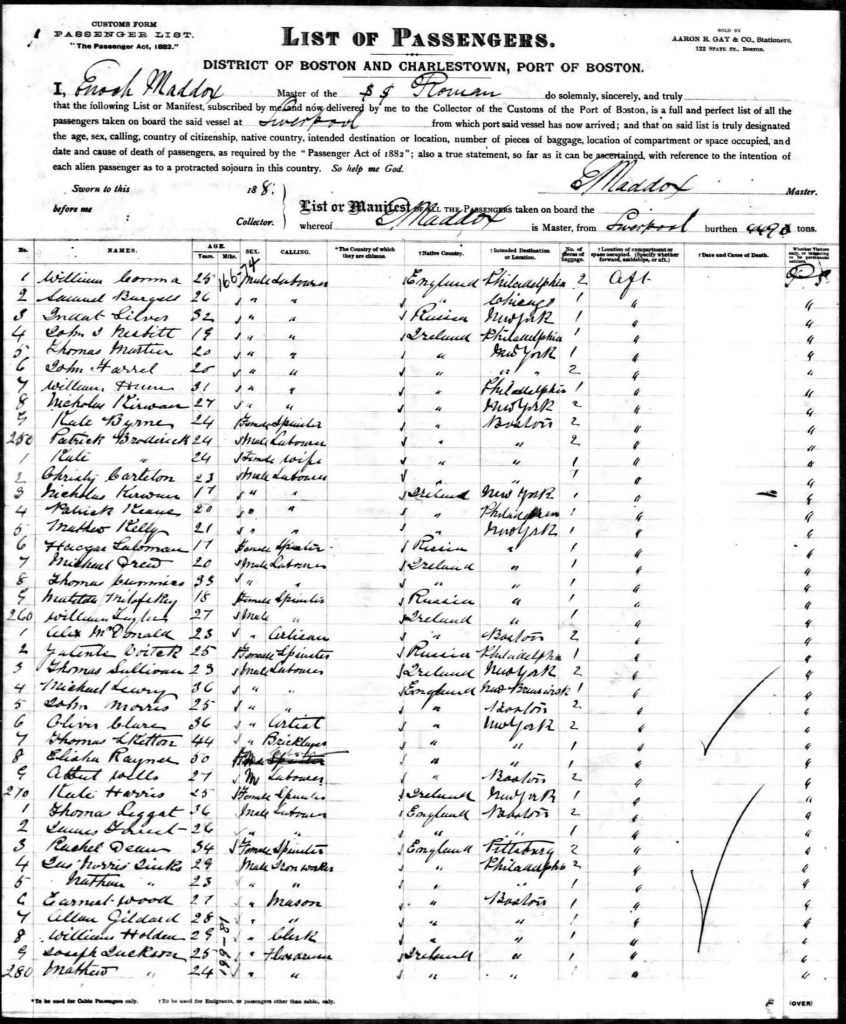 Whilst on these shooting trips he took both his dogs with him. Both were named Pip, one a Springer Spaniel who retrieved any game that his lurcher, also Pip, managed to disturb and flush out. Calling the two dogs by the same name meant that one loud shout had both dogs returning to him. Oliver used to take his dogs to his studio in Livery Street, Birmingham on the tram and would often, whilst waiting for paint to dry, play with the dogs, often playfully pulling the Spaniel's ears. Pip didn't like this and would often just leave the studio and get on the tram on his own and take himself home. This he did often. Pip, the lurcher, was trained to go and collect fresh fruit from the local greengrocer in a wicker basket and bring it back for Oliver to paint. He also learned to stoke the fire. It was this Pip that lived the longest and eventually died on the same night as Oliver sat singing "Abide With Me".
His paintings are in the following public collections: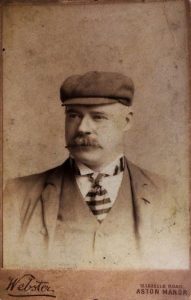 Birmingham City Art Gallery

Herbert Art Gallery and Museum, Coventry

Torre Abbey House

Llandudno Museum

Bolton Art Gallery and Museum

Russell – Cotes Art Gallery and Museum,

Bournemouth

Wolverhampton Art Gallery

Birmingham Museum of Art, Alabama, USA
Exhibited works during his lifetime:
Royal Society of Artists – Birmingham (18 works)

Royal Glasgow Institute of Fine Art

Walker Art Gallery – Liverpool (3 works)

Manchester City Art Gallery (6 works)

Royal Academy

Royal College of Art

Another example of a printed reproduction of Clare's work, dating to slightly later than the postcards.
Reference books for Oliver Clare (British 1853-1927):
Royal Society of British Artists 1824-1893 and The New English Art Club 1888-1917 – Antique Collectors Club, 1975 – 1984 & 1987 – 617 pages

Dictionary of British Art Volume IV – Victorian Painters (1. The Text & 2. Historical Survey & Plates – Antique Collectors Club – 1995)

E. Benezit Volume 3 1999

The Dictionary of British Artists 1880-1940 – Antique Collectors Club – 1976

Dictionary of British Artists working 1900 – 1950 – Grant M. Waters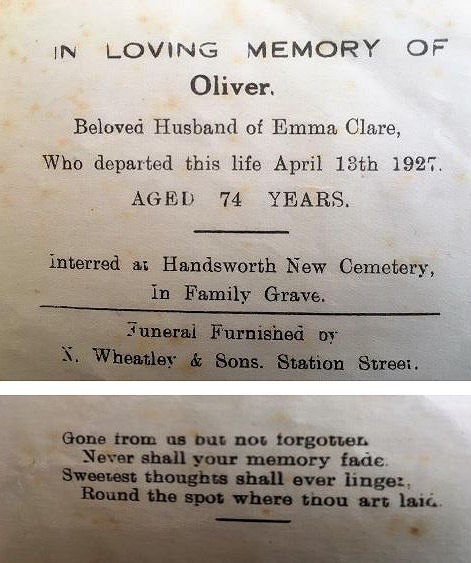 It was in the early 1960's that antiques and art dealer Eric Jones started to collect and deal in the works by Oliver Clare which he regularly found when called in to clear housefuls of furniture and paintings in the Erdington/Birmingham area. Eric, who ran Kestrel House Antiques, Erdington, I knew well, was without doubt the first person to really promote Oliver Clare's work to the extent that many wealthy Midlands businessmen, who had never before shown much interest in art, became enthralled by his work and they became widely sought after and prices rose at an alarming rate. Local businessman, Terry Wallin, was among the first to seriously collect Oliver Clare's paintings in the late 1960's and had without doubt the finest collection of his work. Sadly, due to a burglary at his home and the subsequent loss of 21 paintings from his collection he decided to stop and eventually sold most of the rest of his collection. Surprisingly some quarter of a century later these stolen paintings were found in an attic of a near neighbour to Terry and were eventually returned to him. After Terry's death in 2007 the remaining part of his collection came up for sale in 2017 and many acquired by myself to add to my own collection. Oliver Clare is regarded now as one of the most collected artists coming from the Birmingham area and is regarded as a true "Son of Birmingham".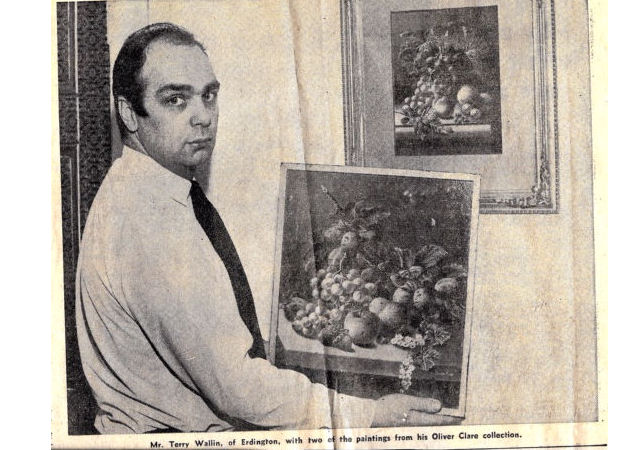 Above: Terry Wallin with two of the paintings from his Oliver Clare collection.
I would like to thank Peter Clare, Oliver's grandson by his son David Clare, for the information and help he has afforded me along with other members of his family as shown below.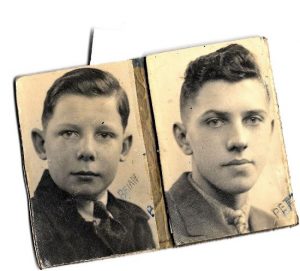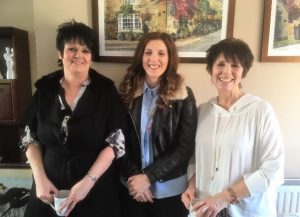 L-R Lesley, a great granddaughter, Georgia his great great granddaughter and Sandra Clare his great granddaughter.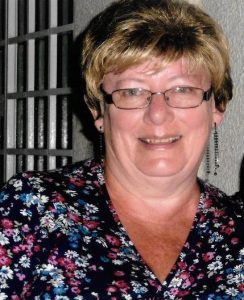 Susan Clare, Oliver's great granddaughter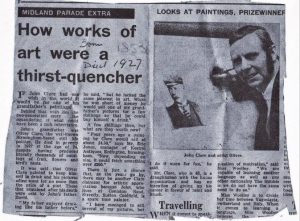 Above is a press cutting from The Birmingham Evening Mail showing John Clare, Oliver Clare's grandson, continuing the family tradition of painting. Although not a professional artist himself he is however still continuing the family artistry as a draughtsman with a well-known Birmingham manufacturing company.
And finally… we recently found Oliver Clare's final resting place.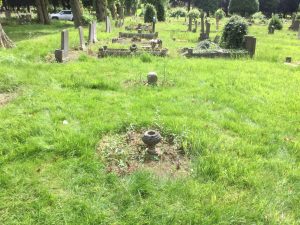 Leon Suddaby
Copyright 2018
All rights reserved